Advantech Partners with Yuan High-Tech to Introduce AI Edge Computing into Telemedicine
07/09/2020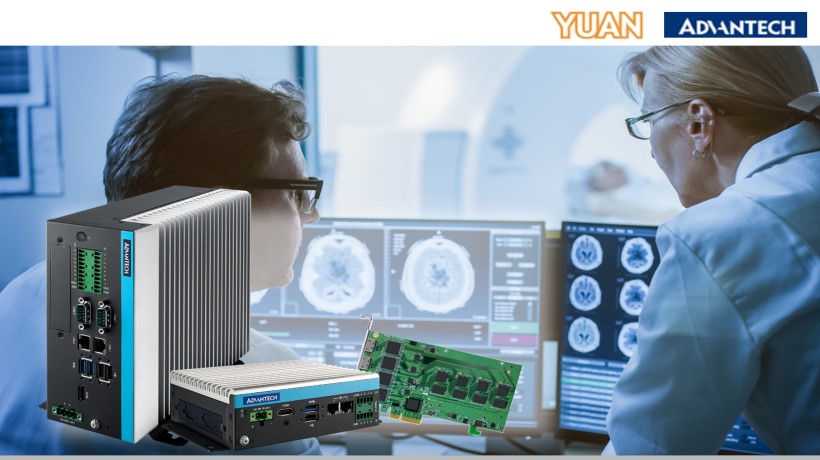 In the past two years, Advantech, a leading provider of IPCs, has launched edge AI inference systems alongside a rising demand for AI image recognition. These systems have been successfully applied to smart transportation, security monitoring, industrial visual inspection, and manufacturing process management. In late 2020, Advantech will begin to realize telemedicine, through high-resolution/low-latency capturing technology, and introduces edge AI image recognition into the medical field in cooperation with Yuan High-Tech, a leading brand of image streaming.
AI in Medicine: Image Processing Becomes Critical
Advantech's industrial inference system MIC-AI was launched at the end of 2018. Its small size and fanless structure, combined with Jetson Nano System on Module (SOM) by NVIDIA, is more suitable for edge AI inference. Advantech's MIC-AI has a variety of I/O and flexible, customized modules (i-Door/i-Module), enabling customers to freely select the interface for input and output data in different usage scenarios. For most applications, users can directly receive images from IP Cameras/Web Cameras by the PoE interface or USB3.0 high-speed interface on the MIC-AI series to meet the needs of AI image recognition. Compared with the general industrial field, medical applications require high-resolution images that instantly reflect AI inference results in real-time during the medical process. Compressed images (or images processed through the PoE interface or USB 3.0 input) are not easily to be accepted by medical applications. Therefore, high-resolution, uncompressed, and low-latency image streaming has become critical in medical AI applications.
Yuan High-Tech Combines with Advantech's Edge AI systems for Better AI Applications in Healthcare
As a global leader in image capturing modules, Yuan High-Tech provides high audio and video quality in terms of image capturing and converters for professional and technical fields such as broadcasting, healthcare, education, live streaming, industrial control, and monitoring. With the rise of AI visual recognition technology, the demand for industrial image processing has significantly increased. Yuan High-Tech's video capture cards are provided with HDMI, DVI, VGA, and SDI formats, among which HDMI and SDI formats are mainly used in healthcare. By supporting 1080P and high image quality of 4K resolution, Yuan High-Tech's products can meet the professional and technical requirements in healthcare. Advantech's MIC-AI series can be installed with Smarttech PCIe/Mini-PCIe/M.2 video capture cards through a flexible i-Door module or i-Module series, enabling high-quality HDMI and SDI images to be computed by MIC-AI series, and providing medical applications such as gastrointestinal endoscopy that requires instant AI image recognition. Thanks to its experience in image processing applications, Yuan High-Tech also provides medical practitioners with QCAP, a software development kit for image enhancement and image overlay technology. It enables medical images to satisfy the current industrial demand with a better image capturing technology for smart healthcare. This improves recognition accuracy and provides upgraded AI applications in healthcare.
Telemedicine adds AI visual recognition through image streaming
Telemedicine refers to the instant transmission of remote and on-site medical information to the medical center through communication systems, allowing immediate diagnosis of illnesses. Through capturing, compressing, streaming, decoding, and displaying, the DVP video capture cards produced by Yuan High-Tech and Advantech, (as well as the QCAP) one can capture medical images, such as endoscopies, X-rays, electrocardiograms, ultrasounds, and other image data. They can be not only fully presented in the remote data center for AI visual recognition but streamed to realize educational video conferences for telemedicine through WebRTC.
Yuan High-Tech's professional image processing technology enables Advantech's MIC-AI system to introduce edge AI visual recognition into the medical field, where AI computing and telemedicine can be integrated more easily and intuitively.