Advantech Launches AMiS-50E Computerized Medical Cart for Diverse Mobile Healthcare Applications
27/08/2019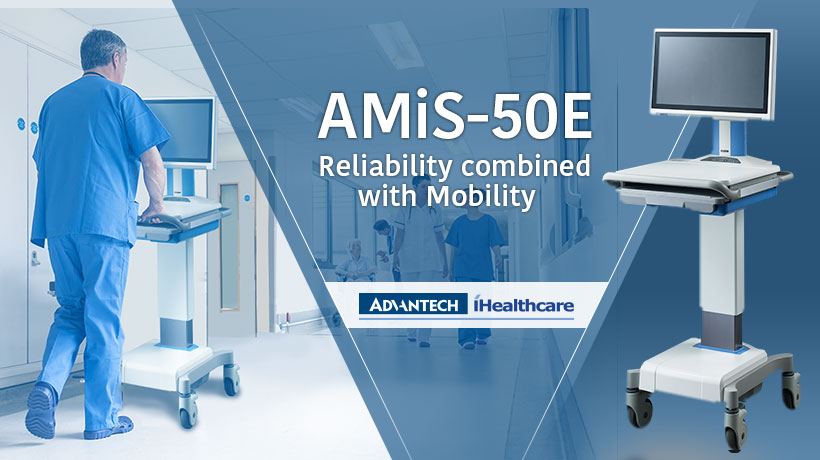 Taipei, Taiwan, 26th, Aug, 2019 – Advantech, a leading provider of medical computing systems and services, is pleased to announce the latest addition to its AMiS product line – the AMiS-50E computerized medical cart with iPS-M420S power system. Designed to support a wide range of healthcare applications, AMiS-50E features a 21" panel PC powered by a 7th generation Intel® Core™ i5/i7 processor for high-performance computing. Compared to the previous model (AMiS-50), AMiS-50E has been optimized with the provision of DIN rails and a larger rear storage area for integrating diverse peripherals and accessories, such as a medication storage box or other equipment. To ensure access to hospital information systems (HIS) from any location in the hospital, AMiS-50E is equipped with standard Gigabit Ethernet connectors and two built-in 5dB antennas that offer enhanced WLAN (802.2a/b/g/n) connectivity. The system I/O includes three USB 3.0, two USB 2.0, one DisplayPort, and one HDMI display output, as well as two expansion slots (one M.2 and one mini PCIe) for integrating additional peripherals, such as HD cameras, barcode readers, LAN+COM modules, and patient monitoring systems. The cart's motorized height adjustment feature allows the height to be easily adjusted for maximum comfort and usability. Compliant with IEC 60601-1MDD and IEC 6060-1-1-2 medical-safety standards and IPX1-rated for water resistance, AMiS-50E is certified for use in critical healthcare environments. Moreover, the system's fanless design ensures silent operation and easy cleaning to facilitate superior hygiene and infection control.
All-in-One Solution Optimized for Ease of Use
Advantech's AMiS-50E cart and companion battery system are lightweight and ergonomically designed to ensure high mobility. The cart features large casters suitable for various floor surfaces, as well as front and rear rubber handles for no-slip handling when moving the cart. Optimized for enhanced usability, AMiS-50E offers a larger storage area for integrating accessories and is 10% lighter compared to its predecessor (AMiS-50). Furthermore, the expanded 46.9 x 48.9 cm (18.5 x 19.3 in) tray surface provides healthcare staff with a large workspace for convenient service delivery.
Modular Design Enables Flexible Customization
AMiS-50E features a modular design that allows the system components to be flexibly configured and customized for enhanced functionality according to specific application requirements. This incredible flexibility offers numerous performance and cost-saving advantages, including rapid integration and deployment, high serviceability, easy repairs/maintenance, and future expandability for a long service life.
Intelligent Power Management with AMiS_Link Software
AMiS-50E is equipped with an iPS-M420S medical-grade power system that uses a Panasonic lithium-ion battery pack to deliver energies of 400 Wh. This battery supports up to 10 hours operation and can be recharged in 3 hours. The iPS-M420S power system is also embedded with Advantech's AMiS_Link intelligent power management software, which enables remote monitoring and configuration of low battery alerts, temperature alarms, and charge/discharge cycle times. Finally, the iPS-M420S power system is fully compliant with IEC 60601-1-2 medical-safety standards, ensuring safe operation in hospital environments.
21" panel PC integrated with a mobile cart for medical applications
7th generation Intel® Core™ i5/i7 processor
10-hour battery runtime with 400 Wh power supply
50-kg load capacity with motorized height adjustment
3 x USB 3.0, 2 x USB 2.0, 1 x DisplayPort, and 1 x HDMI
1 x M.2 and 1 x mini PCIe expansion slots
IPX1 rating for protection from water ingress
Keyboard backlight supports use in dark environments
IEC 60601-1MDD and IEC 6060-1-1-2 certification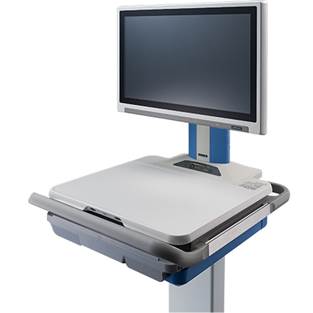 Advantech's AMiS-50E computerized medical cart is available for order now. For more information regarding AMiS-50E or other Advantech products and services, contact your local sales support team or visit our website at http://advantech.com
Founded in 1983, Advantech is a leading provider of trusted, innovative products, services, and solutions. Advantech offers comprehensive system integration, hardware, software, customer-centric design services, embedded systems, automation products, and global logistics support. We cooperate with partners to provide complete solutions for diverse applications across various industries. Our mission is to enable an intelligent planet with automation and embedded computing products and solutions that facilitate smarter working and living. With Advantech products, the number of potential applications and innovations is unlimited. (Corporate website: www.advantech.com)