Advantech Introduces the Customizable Chameleon POS System for Enhanced Corporate Branding
05/11/2015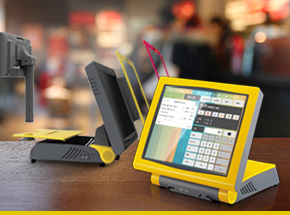 September 4, 2015, (Taipei,Taiwan) — Advantech, a leading provider of certified computing systems and services, is pleased to announce the Chameleon POS system. This device is designed to be highly customizable by allowing the front bezel to be emblazoned with a company logo and the bezel color adjusted to suit branding requirements. Powered by an Intel® BayTrail/Haswell processor, the system not only delivers stable computing performance to support diverse applications, but can also reduce energy costs through energy efficiency. Moreover, Chameleon was awarded a 2011 Taiwan Excellence Award for excellent quality, outstanding design, and unique features, further demonstrating that this system is the ideal POS solution for retail and hospitality industries.
Innovative Easy-Change Bezel
Most retailers want a POS system that can be customized to include their company logo and brand colors. Featuring a patented easy-change bezel, Chameleon provides a functional POS solution with high flexibility that can be customized to suit any environment. The front bezel can be emblazoned with a company's corporate logo to unify and enhance its brand image. Additionally, besides the four standard colors black, white, red, and yellow, the bezel can be produced in any custom color upon request. Color can be applied to the front bezel, base cover, speaker covers, and pole display or VGA rear display trim. All other components are black. The ability to incorporate a company's logo and color scheme is widely celebrated by our hospitality and retail customers.
User-Friendly Design for Easy Maintenance and Upgrades
Advantech's innovative detachable front bezel allows users to easily change the front bezel without the use of tools, ensuring convenient and efficient maintenance. Additionally, Chameleon's cableless modular design facilitates the integration of diverse peripheral devices.
Superior Performance and Environmentally Friendly
Chameleon, powered by an Intel® Core™ processor, delivers superb computing performance to satisfy diverse application requirements. Certified by ENERGY STAR for energy efficiency, Chameleon contributes to protecting the environment by reducing energy consumption and costs without sacrificing system features or performance.
Supports Interactive Customer Displays
Chameleon can be equipped with an optional second display in VFD, 10.1", or 15". The 10.1" and 15" displays can be used for digital signage applications to enhance product promotion. This system allows retail and hospitality managers to improve customers' purchase experiences through the use of interactive promotional advertisements.