Multifunctional Kiosk Enables Logistic Service for Global & Well-known Logistics Films in Sweden
18/09/2015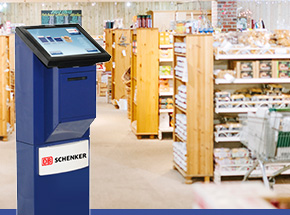 About Client
As the one of the leading globally integrated logistics service provider, our client stands for the transportation and logistics activities of Deutsche Bahn and has over 91,000 employees in some 130 countries. "Speed, Convenience and Quality" are their business vision, and they are always committed to achieving their commitment to customers, thus there is no doubt why their Transportation and Logistics Division can hold the top positions worldwide in the industry.
Challenges
As a leading logistics service provider, our client tries their best to be more user-friendly and convenient. Therefore, they would like to plan the new concept of Service Station which can integrated the delivery service order, information inquiring, and financial service etc. to make their service be more convenience.
Our client planned to install POS systems in convenient stores in Sweden to help their customers can send and track post packages, pay bills and do other financial services in a self-service kiosk. Since the POS systems are operated by end-users themselves, the hardware needs to be as solid and durable as possible. And to make the service efficient, the hardware needs to be easy to maintain.
Solution
After evaluating various POS systems, our client selected Advantech wall-mountable W-POS which is used for self-service kiosk. W-POS system features peripheral modular design makes the database upgrade and maintenance easier. Even the clerks can solve the simple hardware failures.
Better still, W-POS system equipped the powerful processor can support the stable and extremely performance to provide the speed and high level quality service to their customers. There is no doubt that the service stations are getting popular in Sweden since it installed. Not only the installed kiosk is increased in number, but also Schenker's revenue grows year by year.

Benefit
Self-service kiosk application improve service quality and speed

Powerful processor provides stable and extreme performance

Modular peripheral design helps data upgrade and maintenance easier

Diverse I/O interface supports various applications